A few weeks ago, I wrote about US Airways secretly loading their off peak award space to South America. Check out that post for a full rundown of US Airways off peak awards, probably the best value out there for award travel. Off peak travel to South America on US Airways is only 35,000 miles roundtrip in economy class; US Airways and most airlines normally charge 60,000 miles roundtrip from the US to Brazil.
Reader Michael reminded us all in the comments that as the calendar strikes July, US Airways now accepts reservations through the end of May 2013. That means that all of its off peak award space to South America has been loaded for 2013.
As my post from a few weeks ago said, US Airways didn't announce when its off peak awards to South America will be valid this year, but based on checking their calendars, the off peak dates appear to be March 1-15 and all of May.
US Airways only operates one flight to South America, from Charlotte to Rio de Janeiro, Brazil. To take advantage of US Air's off peak awards, all travel must be on US Air planes, so this is the key route to check for availability. Here is the calendar that shows all of the award availability on the Charlotte to Rio route in economy class in May: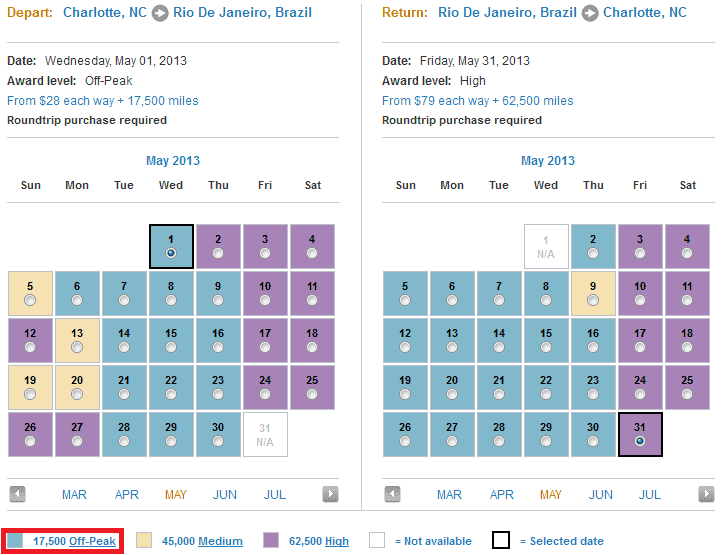 There are 14 outbound dates and 15 return dates with off peak award availability, mostly on Sunday through Thursday. Unfortunately US Air doesn't have great domestic award space, so getting to Charlotte might not be easy. Here's the LAX to Rio award chart for May: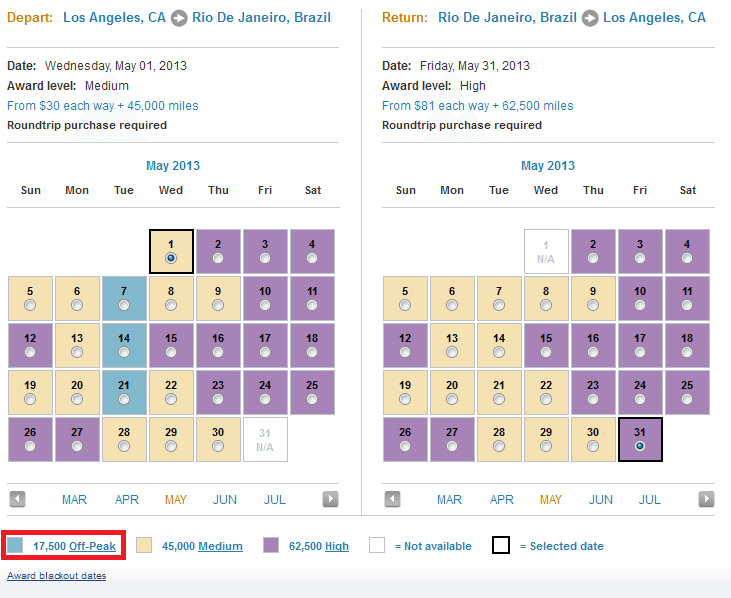 There are three outbounds with off peak availability, but no returns. You can mix and match award levels, so I could go outbound on an off peak day and return on a medium day, shelling out 62,500 miles plus taxes and fees.
There is one easy trick to get a much better deal though. I could book LAX to Rio on an off peak day, say May 7th. Then I could return Rio to Charlotte on an off peak day, say May 23rd. That open jaw itinerary would cost 35,000 US Air miles.
Then to get back from CLT-LAX, I could book a oneway award on United or AA for 12,500 miles. This method would cost 47,500 miles total. That's a 15,000 mile savings just by thinking outside the box a little bit.
Unfortunately US Airways loaded exactly zero off peak business class award space, so this great deal is limited to those who haven't become too spoiled to fly coach.
I've got a moratorium on booking new trips–have you seen my Meet Up page lately–and I want to go to Brazil in 2014 to watch the USA win the World Cup, but this is a great deal to Brazil if you can take advantage.
Check milevalue.com more often than usual this week. I expect to post twice a day to finish my Peru Top Ten, give some Krakow hotel reviews, review 11 hrs in United BusinessFirst, and talk about under 24 hour stopovers.