I naturally categorize miles and points into two groups:
Broadly useful
Niche programs
The first type of miles are the miles you want to stockpile if you're hoping to follow a simple mile-accumulation strategy to meet all your future travel goals. Ideally these miles benefit from cheap award charts across all classes of service and to all regions without incurring fuel surcharges on awards.
By contrast, niche programs have some great values on their award charts, but lots of flaws. Maybe the program collects fuel surcharges on most awards, or charges too much for redemptions in premium cabins, or simply doesn't release much Saver award space on flights.
Niche programs can be ignored my those who merely dabble in miles collection, but serious miles collectors should  know the strengths of and collect miles in niche programs too.
Which miles do I consider broadly useful? Which programs do I consider niche programs? What are the niche programs' strengths?
Broadly Useful
None of these programs is perfect, but I consider all the following programs to be broadly useful programs in which a person could exclusively collect miles and still get a fair deal on the vast majority of potential redemptions:
United
Even after February 1, 2014, I still think United is the most broadly useful airline mile to stockpile for a few reasons:
Award space is good on United and partners.
United is a member of the Star Alliance, the largest alliance in the world, with good coverage of every continent.
United never imposes fuel surcharges.
You can book one way United awards for half the roundtrip price.
United's economy awards are fairly priced.
United's business class awards on its own metal are not outrageously priced after February 1.
Of course, the big problem with this program going forward is that partner First Class awards are basically going to be out of reach, since the miles price is surging on February 1.
Still, I'll almost always be happy when folks come to my Award Booking Service with a stash of United miles.
US Airways
This program has all the same positives of United, since they are both Star Alliance members for now. And US Airways has a far cheaper award chart than United at the moment, a difference that will only increase after United's devaluation.
Pay close attention to the negatives though:
US Airways is leaving the Star Alliance 3/30/14 for oneworld. I prefer the Star Alliance to oneworld for most–but not all–redemptions. I will consider the change of alliances to be a small hit to US Airways miles' value.
US Airways is currently blocking some access to Lufthansa awards that all other Star Alliance partners can book.
US Airways prices one way awards as roundtrips.
The program will disappear in 2015 completely. (This isn't really much of a negative since the US Airways miles will become American Airlines miles.)
American Airlines
American Airlines miles offer good value on most routes in all cabins. The oneworld alliance is small, but it has some great members like Cathay Pacific, Qantas, and LAN.
Furthermore, American Airlines miles are by far the best miles for a round-the-world trip.
There are some weaknesses with American Airlines miles:
American Airlines collects fuel surcharges on British Airways flights. British Airways award space is the most available award space to Europe and the vast majority of oneworld award space to Africa. If you avoid booking British Airways flights with American Airlines miles, you are hamstrung to Africa especially.
I anticipate a devaluation when the AA and US charts are combined. The best case scenario is the devaluation is no worse than the recent United and Delta devaluations. But I wouldn't collect more American Airlines miles than I could quickly burn in case it is far worse.
Awards to the Middle East and India are overpriced.
Ultimate Rewards
Since Ultimate Rewards transfer 1:1 instantly to United miles, Ultimate Rewards are at least as useful as United miles. With the added flexibility of transferring to niche programs like British Airways, Virgin Atlantic, Southwest, and Korean plus hotel programs, Ultimate Rewards are the second most flexible currency overall.
Starwood Preferred Guest Starpoints
The most flexible and broadly useful points are Starpoints, which transfer to American, US Airways, Delta, and 27 other airline programs mostly at favorable rates. (A notable exception is the poor 2 Starpoints to 1 United mile rate.)
There are two drawbacks with Starpoints:
The two best transfer partners–American and US Airways–are becoming one, potentially much worse, partner.
Intermediate Usefulness
These three programs have bigger warts than the programs above, but are too broadly useful for me to call "niche" programs.
Delta
Alaska Airlines
American Express Membership Rewards
Delta
Delta has some definite strengths:
There are good value awards and decent space to Australia (Virgin Australia), Africa (Air France), Europe (various partners), Asia (various partners), and South America (AeroMexico). Very few of these awards have fuel surcharges.
The often-times higher prices are offset by the ease with which you can earn Delta miles from Delta cards, Membership Rewards-earning cards, and Starpoints-earning cards.
But the weaknesses are far greater than with competing US-based airlines:
Delta doesn't offer much Saver award space on domestic flights, making it hard to get to a gateway to connect to partner award space abroad. This is a huge drawback.
Delta collects the roundtrip price on all awards.
Delta miles cannot be redeemed for three-cabin international first class.
Alaska Airlines
Alaska Airlines has a hodge-podge of partners that fly all over the world.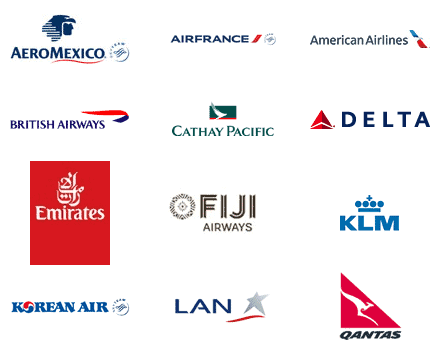 Alaska has access to some of the world's most coveted award space like Emirates First Class space with no fuel surcharges.
Some of the award charts are very cheap–their is a different one for each partner to each region–you can book one way awards for half the roundtrip price, and you can even get a stopover on one way awards.
The only thing that holds Alaska miles back from being more widely useful is that you cannot freely combine partners on Alaska awards. Each direction needs to be all one partner's flights or all one partner's flights plus Alaska flights. This rule hampers your options incredibly, especially if you don't live in a city where Alaska flies!
Membership Rewards
Membership Rewards have an incredible array of partners, but none of them is in the most useful category above.
Delta is in this intermediate category, and the rest of the programs are in the niche category below.
Niche Usefulness
The absolute wrong conclusion to draw about the programs in this section is that they are not useful. Each program listed here–and many programs not listed here have some incredible, high-value awards. But most of their awards are a poor value.
You shouldn't focus all your miles collecting in these programs, but you should know their strengths in case your travel goals overlap with their strengths. Here are some of my favorite niche programs and their strengths:
Of course, each of these programs has major flaws. Southwest points can't be used for first class or international travel. Any Avios awards with layovers get pricey very quickly. Almost all the international programs collect big fuel surcharges on most awards.
Because of the weaknesses, I rarely collect miles in niche programs unless there's an extremely attractive credit card sign up bonus, but I constantly consider the programs as transfer options for my Membership Rewards, Ultimate Rewards, and Starpoints to take advantage of their one or two sweetspots.
Action Item
If you're currently collecting niche miles with your day-to-day credit card spending, put more of your spending on cards that earn more widely useful miles and points like the Starwood Preferred Guest® Credit Card from American Express with 25,000 bonus Starpoints after spending $5k in the first six months, which earns the most versatile points of all.
Your Take
Are any of the programs listed here mis-categorized for you? Is one of the niche programs perfect for all your awards? Does one of my "generally useful programs" never seem to offer you value? Am I letting United miles off too lightly for the big devaluation?